Tech Inspirations
XO Laptop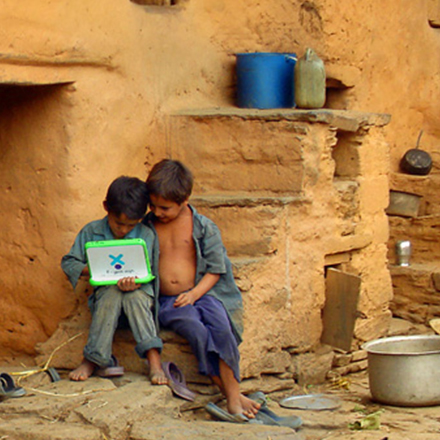 Need
As the pace of change in the world increases dramatically, the urgency to prepare all children to be full citizens of the emerging world also increases dramatically. What children across the developing world lack is not capability, it is opportunity and resources. These children are limited by an inability to understand worldly context, due to an inability to communicate to the outside world. They are limited by a lack of access to high-quality, modern materials. They are unable to engage their passions and develop their expertise because they don't have the tools to do so.
Succeed The NGO One Laptop Per Child they have in their hands the key to full development and participation. In order to achieve the goal of their namesake, one laptop per child, they designed the XO Laptop: aa rugged, low-cost, low-power, connected laptop. The laptop contains hardware, content, and software for collaborative, joyful, and self-empowered learning. With access to this type of tool, children are engaged in their own education, and learn, share, and create together. They become connected to each other, to the world and to a brighter future.
The XO is about the size of a textbook and lighter than a lunchbox. Thanks to its flexible design and "transformer" hinge, the laptop easily assumes any of several configurations: standard laptop use, e-book reading, and gaming. Because of the rugged conditions of the townships many of these children inhabit, the laptop can withstand weather-extreme environmental conditions such as high heat and humidity. It boasts an easy-to-repair touchscreen and a sunlight-readable display. The XO enables high levels of interaction due to its availability in every language and the fact that it is designed for constant connectivity. A few children working together under a tree can connect to each other without any other hardware, and a class full of students can share collaborative activities with one another and see what their classmates are doing. Finally, it is designed to be highly power efficient. Many of these communities do not have regular access to electricity, so the XO design allows for the enabling of power usage from alternative power systems such as solar, wind, water, or generators.
Success Story Roughly 2 million children and teachers in Latin America are currently part of an OLPC project, with another 500,000 in Africa and the rest of the world. OLPC's largest national partners include Uruguay (the first major country in the world to provide every elementary school child with a laptop), Peru (the largest deployment, involving over 8,300 schools), Argentina, Mexico, and Rwanda. Other significant projects have been started in Gaza, Afghanistan, Haiti, Ethiopia, and Mongolia. Every school represents a learning hub, a node in a globally shared resource for learning.
The XO was developed by One Laptop per Child (OLPC), a Delaware-based, non-profit organization created by faculty members from the MIT Media Lab to design, manufacture, and distribute laptops that are sufficiently inexpensive to provide every child in the world access to knowledge and modern forms of education. OLPC is based on constructionist theories of learning pioneered by Seymour Papert and Alan Kay, and on the principles in Nicholas Negroponte's book Being Digital. The founding corporate members were Advanced Micro Devices (AMD), Brightstar, Chi Lin, eBay, Google, Marvell, News Corporation, Nortel, Quanta, Red Hat, and SES Astra. In the last five years, OLPC has reached two million previously marginalized children, providing them with the tools to learn, achieve and begin to transform their communities. They are working to provide this opportunity to millions more.