Tech Inspirations
Twerly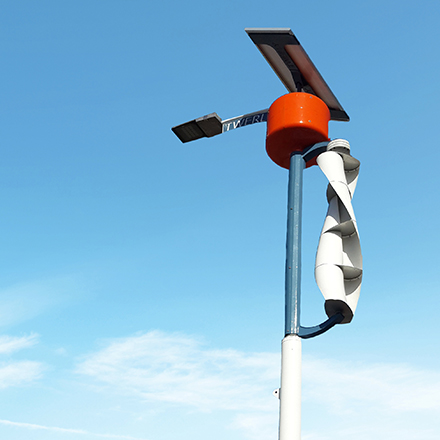 Need
1.6 billion people do not have access to the grid. That's 25 percent of the population that has no access to electricity! In sub-Saharan Africa, more than two-thirds of the population lack electricity. In rural areas, that climbs to 85%. Sub-Saharan Africa is expected to need more than $300 billion in investment to reach universal electricity access by 2030. At the same time, lack of lighting not only prohibits children to do their homework, but it also leads to increased crime.
Succeed TWERLY Street Lights, developed in South Africa at the Nelson Mandela Metropolitan University, is a hybrid street light that runs entirely off the grid and is powered by both solar and wind energy. The team manufactures, installs, and provides maintenance of the TWERLY™. The TWERLY™ also has remote monitoring and surveillance capabilities, can serve as a WiFi hotspot, and can provide video surveillance. This innovative street light is so much more than just a source of light. People with access to reliable lighting can work later, feel more secure, and can participate in community activities. The added benefits of WiFi and surveillance will mean big things for off-grid communities around the globe.
Success Story The Twerly, which is visible on NMMU campuses, has produced two very important outcomes: a benefit to communities that can rely on a dependable source of light and a source of a vast amount of real-time data on everything from battery life to renewable energy availability collected from real-world sites spread throughout the country
Nikolas Jankovich-Bèsàn is an entrepreneur and founder with full and part ownership in a number of small businesses, including Karoo Spekboom Nursery, Jankovich Honey and Hives and Jankovich Boutique Olives and Olive Oil. In addition, he has been the Director of Operations for KEPT (Pty) Ltd; a biometrics company start-up company. He has also worked as a Financial Planner in the Asset Management industry for over 20 years and holds various local and international management diplomas.
Michael deLange is an entrepreneur and co-founder of Mars Technologies with 5 years working experience in the ICT industry. His previous position was that of Divisional Manager: Commercial Services for Mars Technologies (Pty) Ltd since its inception in 2009. Prior to this, he spent 2 years as an accountant at Business Connexion, which at the time was the largest IT Company in South Africa. Michael has an MBA and BCOM accounting from the Nelson Mandela Metropolitan University.